Internet scrubbing, also known as online reputation management, refers to the process of managing and improving an individual's or a business's online presence and reputation. It involves monitoring and addressing online content, including search engine results, social media posts, reviews, and other types of online content that could impact the individual's or business's reputation.
What does scrubbing yourself from the internet involve?
Internet scrubbing can involve various techniques, such as:
Removing negative or inaccurate content: This involves identifying and removing negative or inaccurate content from search engine results, social media platforms, review sites, and other online channels.
Creating positive content: Creating high-quality, positive content, such as blog posts, social media posts, and videos, can help push negative or inaccurate content down in search engine results and improve the individual's or business's online reputation.
Managing online reviews: Responding to negative reviews and encouraging satisfied customers to leave positive reviews can help improve an individual's or business's online reputation.
Search engine optimization (SEO): Optimizing web content to rank higher in search engine results for relevant keywords can help improve the individual's or business's online reputation by pushing down, or burying, a process known as search result suppression, on the Search Engine Results Page (SERP) for the name of that that person or business when it is queried on any major conventional search engine.
Social media management: Managing social media channels, including creating and posting content, responding to comments, and engaging with followers, can help improve the individual's or business's online reputation. Its not just posting, responding, etc. that is important here, it's requesting that unwanted posts, photos, videos and other potentially harmful content be removed from social media sites.
Internet scrubbing is becoming increasingly important as more and more people rely on the internet to research businesses and make purchasing decisions. A negative online reputation can have a significant impact on an individual's or business's overall success, and scrubbing the internet for your personal information can help mitigate this risk.
How do you get started scrubbing yourself from the internet?
It can be challenging to completely scrub personal information from the internet, as there are many websites, social media platforms, and other online sources that may have collected and published personal information over time. However, here are some steps you can take to reduce your online footprint and minimize the amount of personal information available online: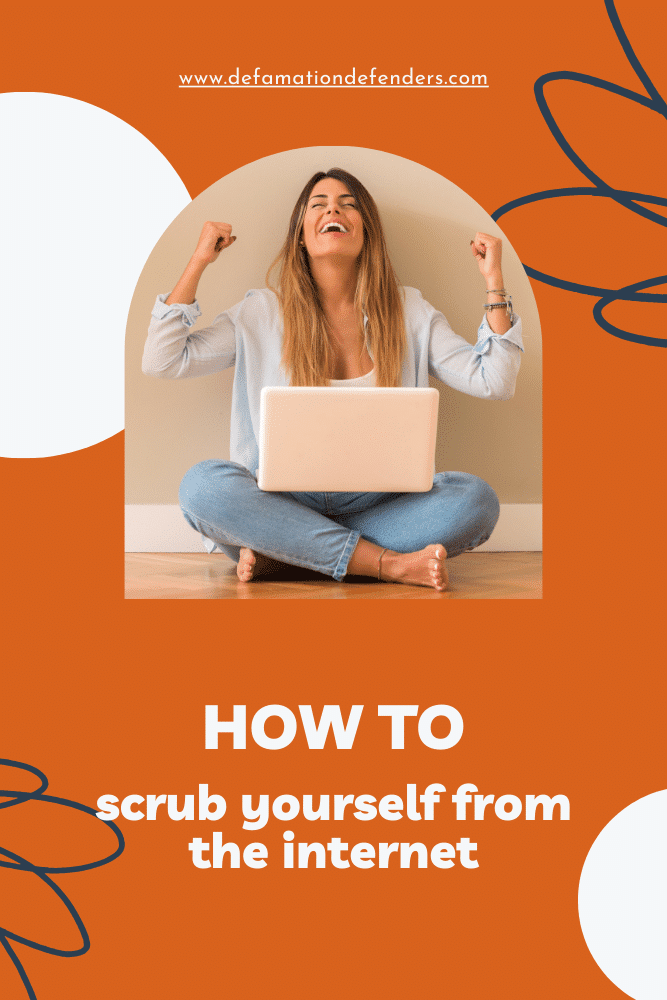 5 ways to start scrubing the internet for your information
Google yourself: Perform a search for your name and see what information comes up in the search results. Take note of any websites or social media profiles that appear and review the information available.
Review your social media profiles: Go through your social media profiles and ensure that you have set your privacy settings to the highest level possible. Consider removing any personal information or posts that you don't want to be visible to the public.
Remove yourself from data broker websites: There are many data broker websites that collect and sell personal information. You can use our trusted service to remove people's information from Data Broker Websites, or look into alternative data broker website removal services like DeleteMe or PrivacyDuck to remove your personal information from these sites.
Contact website owners: If you find personal information on a website that you don't want to be there, you can contact the website owner and request that it be removed.
Monitor your online presence: Regularly monitor your online presence to ensure that new personal information is not being added to the internet. Consider using tools like Google Alerts or Mention to track your name or other identifying information online.
What are the Best Internet Scrubing Services?
There are several reputable internet scrubbing services available that can help individuals and businesses to remove negative content and protect their online reputation.
When selecting an internet scrubbing service, it's important to consider factors such as the services provided, the reputation of the company, the cost, and the level of customer support offered. It's also advisable to read reviews and testimonials from previous clients to get an idea of the effectiveness and reliability of the service.
Some popular in the internet scrubbing niche of online reputation management include ReputationDefender, BrandYourself, and RemoveNames, and of course, the professional team of online reputation experts here at Defamation Defenders.  However, it's important to do your own research and compare multiple services to find the one that best fits your needs and budget.