Business Online Reputation Management
We offer a full range of business online reputation management services to enable businesses small and large to take control of their web presence by improving online reviews and removing negative information from the internet.
Defend and Define Your Brand with Trusted Business Reputation Management Solutions
With over a decade of experience helping people repair personal online reputation damage, our team is the authority in online reputation management for individuals. Our trusted ORM solutions will repair your reputation and help you to brand yourself and regain control of your name online.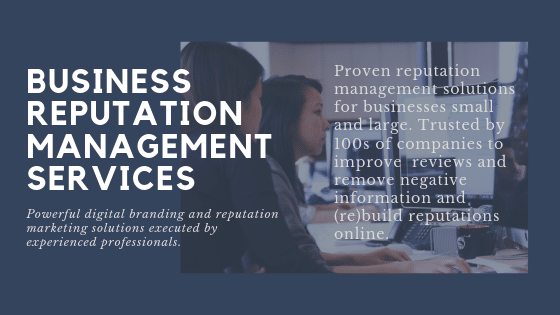 Top Business Reputation Mangement Services
Online Review Management
Improve Your Online Business Reviews
Improve business online reviews by removing false, negative reviews from review sites like Yelp and Google while using our software to generate more positive customer feedback and better star ratings. We offer review management solutions to optimize your business listings and improve your reputation on review sites.
Search Marketing + Branding
Brand Your Business Online with our Proven SEO Solutions
Whether  you want to establish yourself as an expert online, get found on Google or strengthen your personal brand across the web, Defamation Defenders' digital branding team and SEO professionals have just the solution you need. 
Complaints Defense
Defend your Business from Consumer Complaints
Our online complaints removal and defense strategies help business owners and marketing executives get negative complaints taken down from complaint sites like Pissed Consumer and Ripoff Report.  Our business complaints reputation management tactics, search engine optimization and legal takedown letters to combat false reviews and complaints.
Business Defamation Removal
Remove False and Reputation Damaging Content
If Defamation Defenders were a person, Defamation Removal would be our middle name. Why? Because removing defamation and combating other forms of libel and negative content to repair online business reputations of our clients is what we do best. 
Our experienced business reputation management professionals have helped companies remove thousands of defamatory results from search engines.
Business Reputation Management Services to Help Your Company Succeed Online

Business Reputation Defender Services
E-Commerce Reputation and Review Mangement E-commerce has changed the way people shop, but it also creates vulnerabilities online businesses can't afford to ignore. Purchasers and prospective buyers can go on social media third-party review sites, and proprietary comment forums to detail their experiences with …
Talk to an experienced negative content removal advisor for a free consultation to have bad reviews and consumer complaints remove from websites and deleted off search engine results. Just complete the form on this page to get started today! How to Remove Online Consumer …
Online Review Management Take control of your business reviews on review sites like Google Local, Yelp, CitySearch, TripAdvisor, etc. with our proven system to manage and improve online reviews. Get Positve Reviews and Remove Negative Reviews Online We have the solutions you need to …