Bury Negative Search Results with Trusted Google Suppression Services
Our SEO team has over 20 years of experience suppressing unwanted search results on Google with Reverse SEO and other advanced SEO reputation management tactics. Let Search Engine Optimization (SEO) experts get negative search results off of top SERPs and restore your internet reputation.

What is suppression in ORM?
In online reputation management (ORM), Suppression refers to the downward displacement (or burying of) of unwanted content on Search Engine Results Page of Google, Bing and other leading web search engine providers.  Online reputation management companies suppress negative search results to repair online reputation damage using a process revered to as Reverse SEO.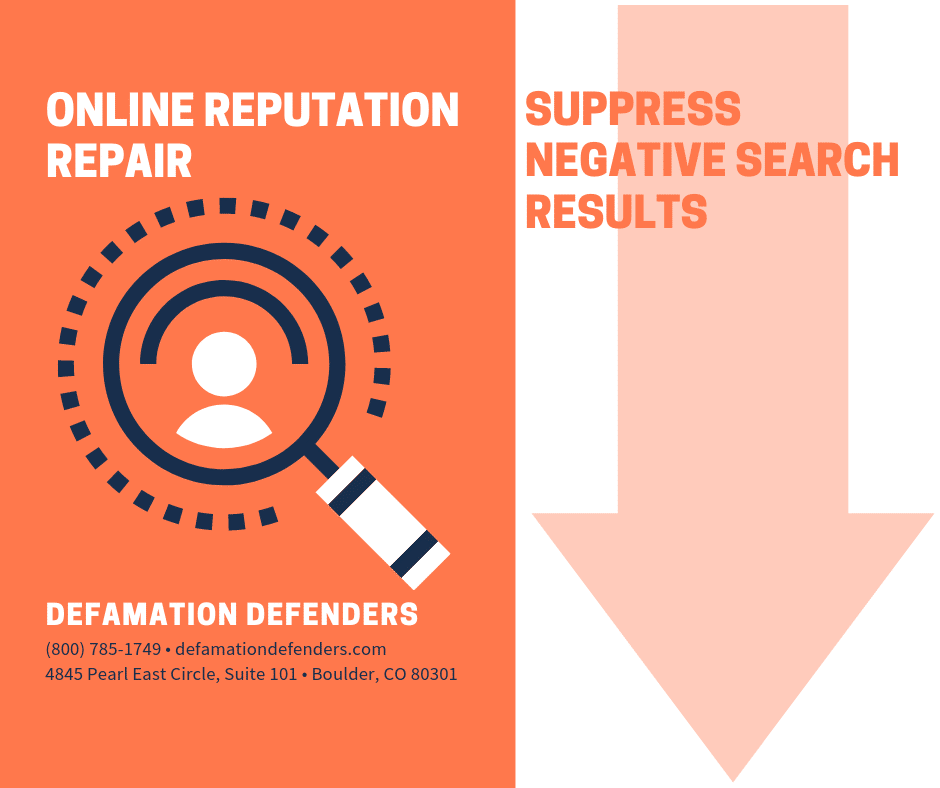 How we push back negative search results with Google Suppression?
The short answer is that online reputation repair via Google suppression services don't actually remove the content from search results.  What it does do is remove negative search results from visibility on Google, Bing and other search engines, demoting the unwanted result to a position that over 90% of searchers won't see.
Our team of skilled Search Engine Optimization (SEO) reputation management strategists have developed a time-tested SEO suppression solution, proven to bury bad results on Google.
Our suppression strategy involves the following steps:
<!============= Process Steps Template Designer 1.3.2 =============>
ORM Questionnaire

Questionnaire

Before we are able to start burying the negative links on Google Search, reputation management clients complete a questionnaire that allows are journalists to write SEO-friendly content with a neutral or positive sentiment.

Professionally Written SEO Content

Content Creation

We have our experienced journalists create professional content that is SEO friendly, meaning it will rank high on Google for the keyword phrases we're targeting in the search result suppression reputation management campaign.

Online Asset Creation

Create Web Properties

After the content has been approved by the client, reputation repair experts with Defamation Defenders can go to work burying the negative results on Google and other search engines. To do this, we create Web 2.0 profiles, blogs, directory listings, etc., and optimize these web properties for search engines.

Personal Blogs & Guest Blogging

Blog Promotions

Utilizing contacts acquicred over the years through various blogger outreach campaigns, Defamation Defenders Reverse SEO experts publish guest blog posts on high authority blogs known to rank high on Google.

PR Distribution and Promotions

Press Release Promos

Publish professionally written press releases to respected, SEO-friendly PR distribution networks.

High PR Article Submissions

Online Article Submission

Our article submission promotion utilizes hundreds of high Page Authority (PA) online article directories to link to and promote positive, reputation-enhancing blog posts, profiles, and other web properties.  This helps to ensure that the negative results are pushed back on Google Search, far below the primary positive and neutral online assets created and promoted as

Link Building

SEO Backlinks

Using White-Hat SEO techniques that are up-to-date with the latest Google algorithm updates, our experienced Search Engine Optimization professionals with build 1000s of backlinks to promote the articles, blog posts, social profiles, and other content published online as part of your search result suppression campaign.

Create custom websites

Website Creation

Defamation Defenders doesn't just build reputations, we build websites too.  In fact, our website development team has created 100s of websites for our clients.  Website creation has become key element in online reputation management projects for both individuals and companies.
Why hire Defamation Defenders to bury bad results on Google Search?
Our extensive background in Search Engine Optimization and over two decades of experience in the online reputation management industry has given us the tools, knowledge and resources to develop unrivaled SEO suppression strategies that are highly effective for online reputation repair   In contrast to many reputation management companies, we recognize that every case requiring Google suppression is best handled with unique, customized Reverse SEO strategies to push negative search results off top SERPs.
We have expert search engine reputation strategists on hand to answer your questions. Complete the form below to learn how our Google suppression services use SEO to help your brand shine online.
As a leading web presence management firm, displacing and demoting negative news articles on search results and getting bad press off top search engine results pages is nothing new to team of  reputation repair Google SEO experts at Defamation Defenders.  In fact, for those at Defamation Defenders, the successful suppression of negative search results on Google, Bing, Yahoo, DuckDuckGo, and other web search engines, is an everyday occurrence.