Remove Cheater Website Content
We offer proven solutions to delete cheater website posts, completely eliminating any and all traces of the cheater post from the internet and search engines. Our cheater website content removal solutions have helped hundreds remove thousands of links from dozens of cheater sites.
Get Your Name Off Cheater Sites
Get your name wiped off cheater sites fast! Our proven cheater website post removal service is Best In Class; it gets content quickly and entirely removed from all major sites known for exposing cheating gossip and spreading rumors.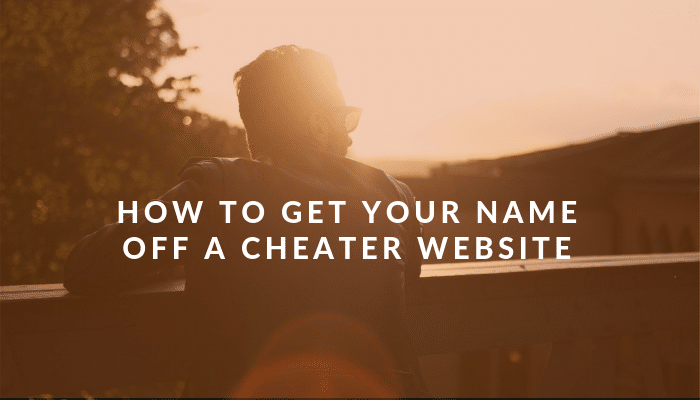 Talk to an experienced online reputation removal advisor for a free quote to remove cheater website posts. Complete the form below to get started!


What is a cheater site?
While "cheater website" is neither an official term nor website classification/category, it's a phrase that's getting more and more attention both within the online reputation management industry, and among the general public.  Seeing as 100s of posts smearing the names of unsuspecting individuals are posted on cheater websites by anonymous users everyday, it's no wonder that this notorious niche of website is creating such a buzz.

Definition of a Cheater Website
A cheater website can be loosely defined as a website consisting wholly or primarily of user-generated content - i.e. content posted by website visitors that are not affiliated with the site.   In the case of cheater websites, the posts are typically made out of anger, by someone close to the victim subject or victim of the post, namely a former spouse, ex-lover or participants in other past relationships.

How is this legal?
Those whom find their name, personal details and/or pictures posted on a cheater website like CheaterReport.com, ShesAHomewrecker.com or CheaterLand.com find themselves asking the same questions.  One of the first things people defamed on a heater website want to know is how this type of website is legal?
CDA Section 230 Immunity

Section 230 of the Communication and Decency Act grants website owners immunity to providers and users of websites that publish information provided by others - i.e. user-generated content.
Why removing your name from cheater websites is a good idea
It's the 21st century and everyone, just about everywhere, is looking to the internet for information on everything and on each other.  What people find when they search your name on Google counts. If personal and/or professional contacts find a post on Cheater Land or CheaterReport.com, for instance, what is said in the post will likely figure in to their overall view of you.  
The Negative Impacts Being Posted on a Cheater Website
There are many very real reasons not to let a cheater website post linger online, published where the world can see. Here are a few...
Unemployment, job loss and missed employment opportunities
When hiring candidates for careers in nearly all industries, recruiters frequently incorporate web searches into their evaluation of job applicants.  False allegations from a disgruntled ex-lover or former spouse is the last thing you want potential employers or recruiters to find when researching you online.
Depression and anxiety
Being publicly humiliated on a cheater website can have lasting effects on one's mental well-being and psychological makeup.   Depression and anxiety are but two of the many undesirable outcomes that a cheater website post can have on an individuals psychological well-being. 
Stalking and harrassment
If it's not bad enough to have your name smeared by a cheater website and your reputation torn up online, having private information exposed online, such as your phone number, picture or contact information, can open you up to threats of stalking and ongoing cyber-harassment.
Strategies to remove information from cheater sites
Below you'll find some tips for dealing with cheater website publications and techniques to have posts deleted from cheater sites.
Our team of internet privacy content removal experts has gathered contact information and formulated removal and de-indexing solutions that allow our team to provide one of the fastest most effective ways to get people removed from defamatory cheater websites by fully removing the website post and deleting the links off Google and other search engines.
If you're unsuccessful in your attempt to reach out to the admins of a cheater website, you're next course of action should be to get in touch with and report abuse to the company hosting the cheater website. 
Use website policy violations
Sometimes our team is able to have content deleted off a website using the policies stated on a website in its Terms of Service (TOS), content policy, copyright policy or alike.
Suppress cheater posts on search results
This strategy doesn't actually remove the content from the cheater website.  What it does do is push the post back on Google Search Results.  Because the large (over 90%) of people searching for a person on Google Search don't go past the 2nd page of search results, suppressing negative posts on Google serves the same purpose as completely deleting a post from a cheater website - i.e. to remove the post from publicly visibility and prevent people from seeing the content on the internet.
Legal remedies to remove content from a cheater website
There are a few ways you can use the law to deal with cheater websites, however there are important limitations when it comes to suing cheater websites and using other legal recourse to remove content from cheater websites.
DMCA takedown - In order for a DMCA takedown to be successfull in removing content from a cheater website, it must be shown that the cheater website content infringes on copyrighted material that you own.  For instance, if someone saved your Facebook profile picture and posted it on a cheater website, there's a good chance you'd be able to get the website to completely delete the post. If they're unwilling to delete the post, at very least you should be able to get the  copyrighted image taken out of the post and deleted from the site.
Defamation lawsuit - you may be able to get content removed from a cheater website by sueing the person that submitted the post.  To do this you will need to (a) identify who posted the content on the cheater website; and (b) prove that the post contains defamatory statements about you.
How much does it cost to have cheater website content deleted?
The cost to have 1 post removed from a single cheater website typically ranges from $900 to over $3000, depending on the website from which the post is to be removed.
Standard Cheater Content Removal Pricing and Timeframe
Refer to the tables below to get a rough idea of how much it will cost and how long it will take to remove information from cheater websites. 
Price to Remove Cheater Post(s)
Refer to the table below to get a rough idea of how much it will cost to remove information from cheater websites.
| | | |
| --- | --- | --- |
| 1 post |  Complete and permanent removal of 1 post from a cheater website. | $900 to $3000 |
| 2 posts | Complete and permanent removal of 2 non-duplicate posts from a cheater website. |  $1,500 to $4,000 |
| 3+ posts | Complete and permanent removal of 3 or more non-duplicate posts from a cheater website. | Usually over $4000 |
| Cheater Website  Monitoring |  Service to monitor cheater websites for an individuals personal information and/or photos. | Starts at $50 per month |
Timeframe to have cheater posts removed
The table below contains information on typical turn-around times for cheater content removal services.
Content Removal

 2 to 4 weeks


Search Engine De-Indexing

  Typically complete within 72 hours of cheater website content removal.

Monitoring

Service is ongoing

Setup takes up to 72 hours.
Popular Cheater Website Removal Solutions
CheaterLand.com
Have Content removed from CheaterLand.com
Get your name off CheaterLand.com with Defamation Defender Best In Class cheater content removal solutions. 
Bad Boy Report
Remove Posts from BadBoyReport.kr
We offer guaranteed solutions to fully delete posts from BadBoyReport.kr. This will insure that any trace of your private information is completely deleted off the Bad Boy Report website.
TheDirty.com
Remove content from TheDirty.com
The Dirty is a notorious gossip website that has sullied the reputations of tens of thousands of people from the U.S., Canada and elsewhere. At Defamation Defenders, we employ cheater website removal solutions that get posts completely off TheDirty.com and the internet.
CheatersAndBastards.com
Guaranteed CheatersAndBastards.com Removal
Defamation Defenders offers guaranteed removal of all CheatersAndBastards.com posts at the best possible price.
DatingPsychos.com
Remove DatingPsychos.com Posts Fast
No one wants to be labeled a psycho!  We provide fast, private removal of content on DatingPsychos.com.
ExposeCheatersOnline.com
Expose Cheaters Online Removal
We can get you removed from ExposeCheatersOnline.com fast and for the lowest price. Give us a call today to get started with our guaranteed removal for ExposeCheatersOnline.com posts.
CheaterReport.com
Remove Content from CheaterReport.com
No firm offers a better solution to remove private information from CheaterReport.com.  Give us a call today to get the process started.
ShesAHomewrecker.com
ShesAHomewrecker.com post removal
Get your private information removed from She's A Homewrecker.  Our proven methods to remove harmful content from cheater websites like ShesAHomewrecker.com have helped hundreds cleanup reputation problems online.
BadBizReport.is
Get Your Info Off BadBizReport.is
If you find your private info posted on BadBizReport.is give us a call. We offer guaranteed solutions to remove cheater posts from BadBizReport.is.
ReportCheater.com
Remove CheaterReport.com Content
Defamation Defenders offers fast and guaranteed removal from CheaterReport.com.  We can help you get your information off CheaterReport.com and repair your internet reputation.
InternetCheaters.com
Internet Cheaters.com Post Removal
No need to wait months to get your InternetCheaters.com post down.  With Defamation Defenders cheater site removal will have your name and photo permanently removed from InternetCheaters.com in no time.
Browse the reviews below to see what people who have used our services have to say about our cheater revenge content removal solutions.
S Anika
I was shocked to find my name on a cheater website a few weeks after I broke up with my ex-boyfriend. A friend recommended I reach out to Defamation Defenders and boy am I happy I did that. I was immediately assigned Jerome as my account manager and he was very familiar with the website I was posted on and knew exactly what was needed to get the content removed. Very quick and efficient service. Thank you Jerome for all your help.