Don't be fooled by companies promising to Remove RipOffReport.com.  This is not possible, but you can suppress it back where no one will find it.  We have effectively buried RipOffReport.com posts to pages 5 and beyond. We have extensive experience dealing with RipOffReport.com and can help you quickly and effectively.
---
In the digital era, it's all too easy for disgruntled, unhappy or even mentally ill people to air their grievances in a public forum. As the founder of Ripoff Report, Ed Magedson, famously said, "Right or wrong, true or false, we will all be blogged. It's not a matter of if it will happen, but when." Mr. Magedson might know this basic fact better than anyone else on the planet, as the website he founded is often the first place irate people go to when they have an axe to grind.
Harmful Statements
Ripoff Reports claims to house more than 600,000 reports, pulled together since the company was founded in 1998. Some comments are tied to verifiable people who can be tracked via search engines, but many comments are posted anonymously. Each story represents a tiny ding in the reputation of the company profiled. Estimates vary on how much those dings could add up to in hard dollars, but one lawsuit claimed that the report caused an 80 percent dip in business, virtually overnight.
Each Ripoff Report contains a title, and as a blog post in Moz suggests, those titles seem to be stuffed with keywords. The title given as an example reads: "Russ Whitey [sic] Education Group Scam Rip Off Fraud Misrepresentation Deceptive trade practices Securities and Exchange Russ Whitney Foreclosure Wealth Intelligence Academy Law Suit/ Focus On Foreclosure Cape Coral Florida."
The owners of the site claim that these are the sorts of titles people write when they are angry. Whether or not this statement is true, it is clear that repetitive titles like this tend to perform well in search engine algorithms used by Google. The search engine will see repeat words as "points," and the more points a title accrues, the higher it will move in search engine results. People searching for a company or an individual on Google might be hit with a Ripoff Report on the first page of search results, due to these headline issues.
Working With Ripoff Report
The site is adamant that it will not remove content, no matter if that content is true or not. The law seems to support Ripoff Report here, as well as Xcentric, the company that stands behind the site. In fact, in a ruling handed down in 2011, the judge writes, "However much as this Court may disapprove of business practices like those embraced by Xcentric, the law on this issue is clear. Xcentric enjoys complete immunity from any action brought against it as a result of the postings of third party users of its website." The company isn't responsible for the content generated by users, and so the company has no real incentive to remove or amend content.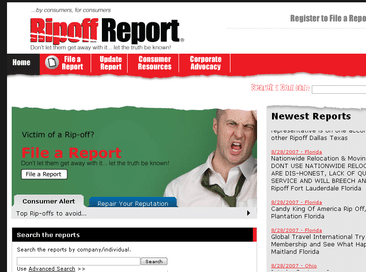 What the company can and will do is accept a fee in order to "investigate" claims. In one such program, Ripoff Report will hire an outside investigator to research claims, and if they are proven false, those comments will be amended. This VIP Arbitration program will only deal with information that can be proven false, however, and since much of the information provided in a report falls into the realm of opinion, this provides very little help to most companies. Ripoff Report also provides a Corporate Advocacy Program in which companies can respond to comments directly and (perhaps) have false information removed. However, both of these programs are expensive, and many executives might blanch at paying any sort of fees to a company that caused such immense problems in the first place.
An Alternate Method
In 2011, due to a technical glitch, Ripoff Report was temporarily removed from Google's search index capabilities. When Mr. Magedson learned of this, he wrote: "It was an "˜in your face' reminder that sites like Ripoff Report depend on Google to survive." This statement contains the kernel of hope that companies can expand upon to fight back against Ripoff Report, without rewarding the company for providing the services it provides.
Burying Ripoff Reports with Online Reputation Management
Top reputation management companies have the ability to determine what sorts of keywords are stuffed into the headlines and text of common Ripoff Reports. With this information, reputation management companies can create copy that contains the same keywords, but is much more positive in tone.
With this flood of articles being promoted with reputation management SEO, the Ripoff Report will be pushed to later Google search pages, and the report will seem much less credible, since the user has seen so many more positive results that came before. In addition, according to Moz, other search engines such as Google, Bing, DuckDuckGo, MSN/Live and Yahoo! are either banning the site from search results, or severely limiting their ability to rank high on search engine result pages (SERPs).
People who invest in reputation management may be able to project an entirely positive image for people who use these alternate search engines.
Get Professional Help with a Ripoff Report
While dealing with Ripoff Report can be difficult and disheartening, our Ripoff Report reputation management services really help make a difference for consumers seeking to recoup from a reputation damaging reports on RipoffReport.com.  Contact us to find out more.