Removing Bad Google Reviews
The importance of online reviews can no longer be disputed.  Experts agree, and studies confirm, that online reviews are among the most important factors influencing the decisions of buyers in both B2C and B2B transactions. Negative reviews on Google can make or break a business, especially a small, local business.
Here are the top strategies for businesses to have negative Google reviews removed:
Ask the Google reviewer to edit or remove the negative review
Report and Flag Fake Negative Google Reviews for Removal
Push Negative Google Reviews Back by Encouraging Positive Feedback
Take Legal Action to Get Negative Google Reviews Removed
Each of the Google review removal strategies above is discussed in more detail below.
Ask the Google reviewer to edit or remove the negative review
Business reviews left by Google Maps users are not set in stone.  Google Maps users can go back and edit the reviews they leave of local businesses at any time.  One reliable way to get a negative Google reviews removed from your Google My Business listing is to respond to customers that negative feedback, see what you can do to change the customer's opinion of your business, and ask him or her to change their feedback or delete the negative review from your listing on Google Maps.
Flag Negative Reviews that conflict with Google's Review Policies for Removal
As mentioned above, reporting fake Google reviews and negative reviews of your business that happen to go against Google's policies on reviews is highly recommended, as it can be a viable way for business owners to remove unfavorable Google reviews from Google Maps listing.  Of course, removing negative Google reviews using this method - i.e. by reporting the reviews to Google - will only work if the negative reviews in question can be shown to go against Google's policies.
This part can get a little tricky.  Thankfully, if you need help at this stage feel free to contact us.  Our team of business online reputation management professionals are experts in proving such Google policy violations.  You don't have to take my word for it though, just check out the review removal video demonstration below.  In it, you'll see a Defamation Defenders' review management pro successfully impliment one of many strategies we use to get bad reviews removed from our clients Google business listing(s).



What Google Reviews qualify for Removal via Flagging

Fake reviews and spam content
Because Google aims for Maps user feedback and reviews of local businesses to reflect a user's genuine experiences at a real business, they enforce a strict policy against posing reviews with the intent of manipulating a business's ratings.

Fake Google reviews
Duplicate reviews - i.e. reviews that are posted more than once.
Reviews posted by a single user for the same place from multiple Google accounts.

Off-topic Google reviews
Google will remove reviews that are not based on a consumer's experience with a specific business, or questions about such experiences from Google Maps.
Reviews containing restricted content
For some products or services subject to controls and local regulations, you must follow certain guidelines when posting content. The content you upload may not feature calls to action or offers for the sale of products or services that are subject to local legal regulations. This includes, but is not limited to, alcohol, gambling, tobacco, guns, health and medical devices, regulated pharmaceuticals, adult services, and financial services.

For instance, the content shouldn't display:

Links to a landing page where it is possible to purchase restricted goods or services.
Email address and/or phone numbers to contact for the purchase of restricted goods.
Promotional offers for restricted goods or services. For example, you shouldn't upload content that displays deals, coupons, pricing information or other promotions for a restricted product or service.

Note that incidental depictions of these products are excluded from this policy. Examples include:

Images of menus.
Images where alcoholic beverages are present but not the main focus.

Reviews containing illegal content
Google doesn't accept content that is illegal or depict illegal activity. This includes:

Images or any other content that infringes on anyone else's legal rights, including copyright.
All sexual abuse imagery and all content that presents children in a sexual manner.
Content on dangerous or illegal acts such as: rape, organ sale, human trafficking.
Illegal products and services: endangered animal products, illegal drugs, prescription drugs diverted to the illegal market.
Images of graphic or gratuitous violence, or which promote violence.
Content produced by or on behalf of terrorist groups.

Negative Google reviews containing such content can be flagged for immediate removal.

Reviews containing terrorist content
Google doesn't permit terrorist organizations to use this service for any purpose, including recruitment, and  prohibits content related to terrorism, such as content that promotes terrorist acts, incites violence, or celebrates terrorist attacks.

Removing Google reviews that contain or promote any such terrorist content can be quickly accomplished by notifying Google of the policy violation.

Reviews containing sexually explicit content
Google does not allow content that contains sexually explicit material. Also, Google does not allow content that sexually exploits children or present them in a sexual manner. Google will remove this type of content, shut down the account, and send a report to the National Center for Missing & Exploited Children (NCMEC) and law enforcement.
Reviews containing offensive content
Google will remove content that contains obscene, profane, or offensive language or gestures.
Dangerous & derogatory content
Google doesn't permit merchants or consumers to post dangerous or derogatory content, including content that:

Threatens or advocates for harm on oneself or others
Harasses, intimidates or bullies an individual or group of individuals.
Incites hatred against, promotes discrimination of, or disparages an individual or group on the basis of their race or ethnic origin, religion, disability, age, nationality, veteran status, sexual orientation, gender, gender identity, or other characteristic that is associated with systemic discrimination or marginalization.

Impersonation
Google does not allow individuals to use Google Maps to mislead others. This applies to deceptive content as well as false representations. It's against Google's review policies to attribute reviews to another individual, company or organization if you are not authorized to represent them.
Conflict of Interest
To make reviews as honest and unbiased as possible, Google removes reviews where conflicting interests are involved. Examples of disallowed Google reviews practices where conflict of interest come in to play include, but are not limited to:

Posting reviews about your own business.
Posting content about a current or former employment experience.
Posting content about a competitor to manipulate their ratings.

Business owners can remove a negative Google review left by a competitor or disgruntled former employee, or where another type of conflict of interest is involved, by reporting the review to Google.
How to Flag Negative Google Reviews for Removal
If a negative Google review of your business does conflict with Google's policies, here's how to flag the review for removal.
Log into your Google My Business account.
Scroll over the negative review.
Click the small flag icon located above the review and to the right of the user's star rating.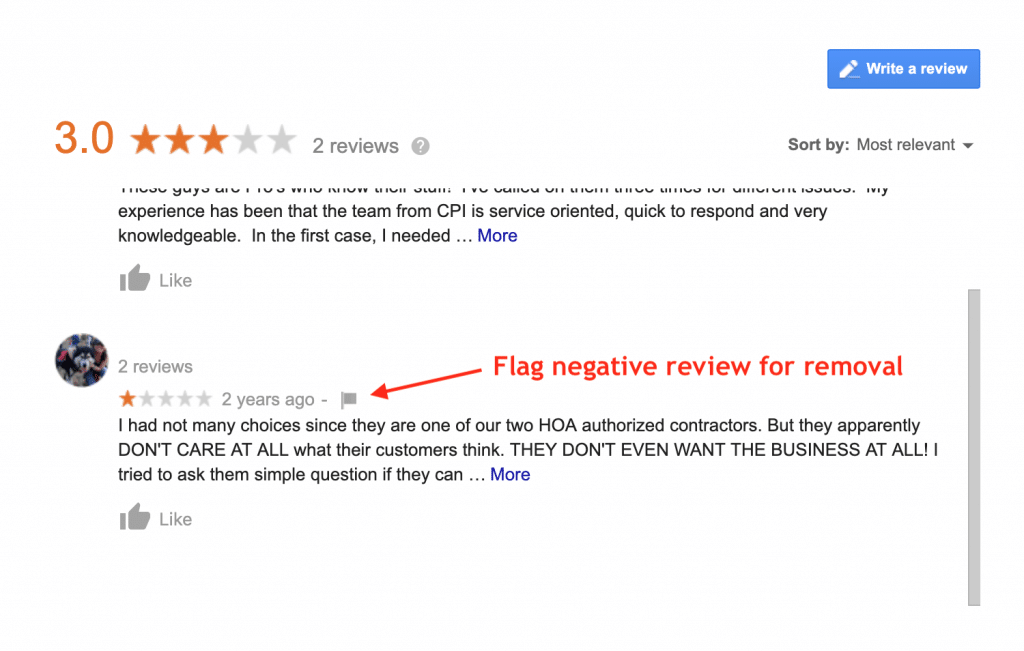 This will take you to a web form where you'll be able to report a policy violation to Google and request that the fake review be removed from your Google My Business listing.
How to Get Google to Remove Fake Reviews
If you notice a negative review on your Google business listing that seems suspicious and you don't believe it is from an actual customer, you should check your transactions and other business records to see if you can determine whether or not the negative review is fake.  If it turns out the negative Google review is phony and you can prove it, you may be able to get it removed by reporting it to Google. However, because  of the huge volume of requests Google receives regarding allegedly fake reviews, it may take some time for Google to get to your case, or the review might not be removed at all.
If you've flagged a fake Google business review, but Google has yet to remove it from your Google My Business Listing, here are the steps you should take to get Google to respond to your request and remove the fake review:
Repeatedly flag the review for removal.
Post a public response questioning the authenticity of the review.
Tweet to the Google customer service representatives at @GoogleSmallBiz.
Ask the Google My Business Community for help.
Encourage Positive Feedback to Push Negative Google Reviews Down
Get more positive feedback on your Google My Business listing by encouraging satisfied customers to leave positive reviews of your business on Google Maps.  This method will not completely delete the content from your Google Business listing - i.e. the negative review will still be present on Google Maps - but it will remove the Google review from visibility by burying it underneath positive reviews on your business listing.  Most people do not look at more than six reviews when researching a business on Google.  So when you can't get a bad Google review all together removed, pushing it back so that few see it can help tremendously.
To encourage positive business reviews on Google, reach out to happy customer's you've done business with in the past by email and include a link to your Google Business listing along with a polite request for positive feedback.  Studies have found that over 60% of customers that receive online review requests from a business will comply, leaving the business a review.  You can also run run promotions and offer discounts to get new customers to review your business in a positive light on Google Maps.
Take Legal Action to Get Negative Google Reviews Removed
If all else fails, you may want to take legal action to remove negative Google reviews from your Google Business Listing.  Defamatory content can be removed from the internet. In order to get Google to remove a negative review using legal measures related to defamation law you'll need to be able to prove that the negative review is libelous - i.e. is false, reputation-damaging and resulting in quantifiable damages to your business.  If you can prove that a negative Google review of your business is defamatory you can sue the reviewer for defamation.  You may even be able to avoid having to follow through will a full fledged lawsuit and get the Google Maps user to delete the negative review by having an attorney drafted cease and desist letter sent to her.
Before you can use legal recourse, by suing for defamation or making legal threats, you'll need to identify the reviewer.  This can prove difficult for some businesses, and may require that you have a subpoena or court order sent to Google, requesting that they release user data that will help you to identify the person that posted a negative review.  You can learn more about subpoenaing Google for user account data tied to a negative Google review here.
To get started submitting a legal request to get fake, negative Google reviews removed click here and select "Google My Business (reviews, questions & answers (Q & A), and business listings)" from the list of Google products.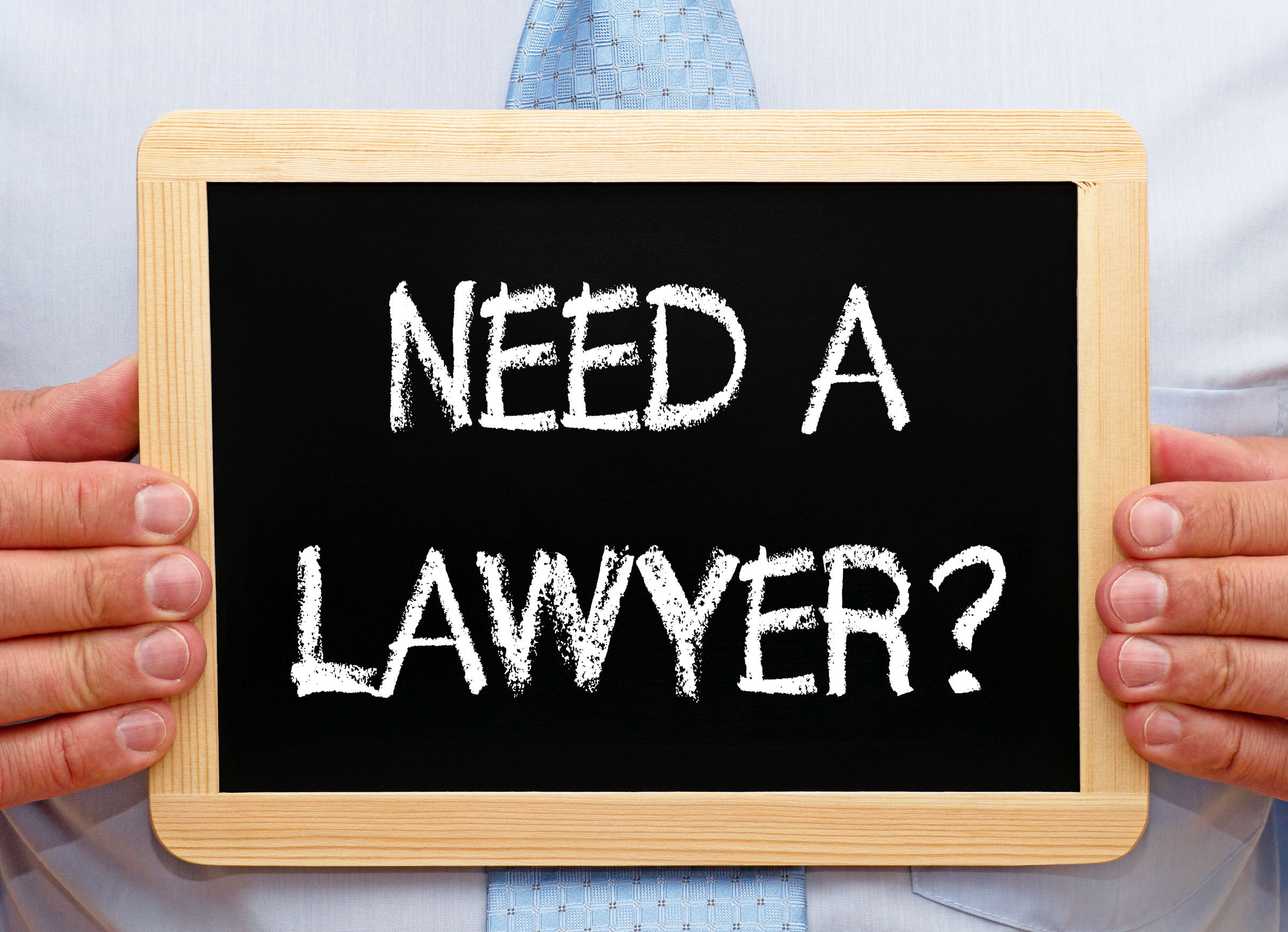 Get Professional Help Removing Negative Google Reviews
Defamation Defenders specializes in helping businesses small and large with online reputation management and review repair.  If your business is suffering from negative Google reviews or you're simply looking for easy ways to manage and respond to reviews on your Google business listings, and get customers to leave more positive reviews of your business, we can help!   At Defamation Defenders, our full service review management solutions aid business owners in getting bad reviews removed from Google and other review platforms, allowing businesses to take control of online reviews
Click here to schedule a free consultation with one of our experienced online reputation advisors.